Franklin veterinary care!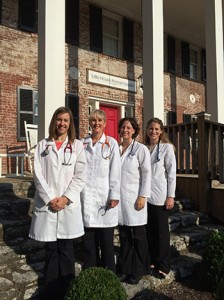 Little House is much more than a facility. It embraces a vision, spirit, and philosophy of patient care deeply rooted in a love for animals and the precious gifts they bring to our lives. It's the realization of a childhood dream and the product of an incredibly committed staff who bring that dream to life every single day.
In 2000, Little House Animal Hospital opened its doors in a literal little house on Hillsboro Road, not far from where we are now. Within a few years, we needed to spread our wings into a larger space. That led us to a beautiful old historic farmhouse, circa 1836, and in 2005 it became ours, where we are today.
We've worked hard to maintain and enhance the charm of the original structure, while transforming the interior into a sparkling, fully-operational veterinary hospital with the warmth of a loving home.
Little House is a place where its patients can feel safe, loved, and comforted in our care. We celebrate health restored, wagging tails, and purrs. We comfort clients during the sad times and cry together. If you've been here, you understand. If you have not, we'd love nothing more than to meet you and your furry ones.
— Dr. Kathleen Kunkel and the Little House Team