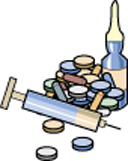 For several important reasons, we highly recommend you purchase your pet's medications from Little House:
1.) Manufacturer Backing. Medication purchased from us is backed by the manufacturer. Medication purchased from an online pharmacy is not. If, for example, your pet acquires intestinal parasites while receiving Interceptor or Sentinel for heartworm prevention – and documentation verifies it was purchased from your veterinarian – the manufacturer Novartis will pay to have your dog dewormed.
2.) Quality Control. Not all online veterinary pharmacies are alike. Medication purchased from other sites may not be exactly what the packaging says it is. To save money, some online sources purchase their products from other countries not regulated by the FDA.
3.) Comprehensive Health Care. Medication purchased from Little House allows us to track expected results. When we can follow how often you buy it, we can monitor its use over a specific period of time, better understand any side effect issues, and be more fully aware for guiding diagnosis, treatment, and follow-up. Online pharmacies offer no such assistance.