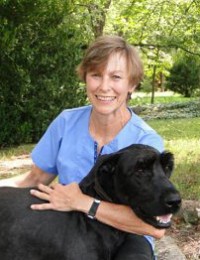 Becky's career began as a licensed veterinary technician, having graduated from MTSU with a BS in Animal Science and the 15th license granted. While rearing her children and not foreseeing a return to the field, her license ultimately lapsed. But now she's back at it. For years, Becky had been a Little House client. And for years, Dr. Kunkel hoped Becky would some day become part of the team. That finally happened in 2010, and Dr. Kunkel is thrilled that one of the most caring and hard-working people she's ever met is now blessing Little House with her values, work ethic, and knowledge.
Becky grew up in the Nashville area and now has a home in Franklin, very close to Little House. She loves attending Forest Hills Baptist Church, an important and meaningful part of her life. She is married to Jim, otherwise known as Mr. Wonderful, who recently retired from General Motors after 39 years.
Horses have always been Becky's passion, particularly hunter jumpers. She rode in the A circuit for several years and worked as a groom. Her current riding companion is Recia Z, a 16-year old Zangersheide. Becky also cares for Cornbread (3 year old Thoroughbred), Poncho (24 year old pony), and Elliott (27 year old retired Grand Prix jumper). And, never far away, are doberman Skeeter and giant schnauzer Ollie.