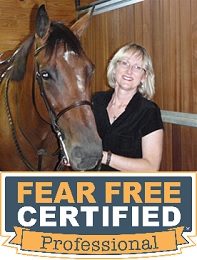 In a second grade essay, eight year old Kathy declared she would attend veterinary school at her beloved grandfather's University of Tennessee alma mater. She would move to Tennessee and start a house call practice so "animals would not have to be frightened receiving care in their own homes."
It happened exactly like that. Born and raised in Ft. Lauderdale, Dr. Kunkel completed her undergraduate work at the University of Tennessee and East Tennessee State, followed by a Doctorate from UT's College of Veterinary Medicine in 1989. Her house call practice began in 1992, based in Franklin.
In 2000, Dr. Kunkel opened Little House Animal Hospital on Hillsboro Road in the Grassland Community – a small white clapboard house that provided a warm and loving home-like environment for her growing number of patients. Within a few years, its space outgrown, Dr. Kunkel moved her practice to the current larger location that's still "Little House" at heart.
Dr. Kunkel and her husband Scott live with their three horses, four mules, three dogs, and two cats, all beloved. Scott provides priceless support to Dr. Kathy, as he is always willing to accommodate any ailing patient his wife may bring home for extra care.
A strong believer in the importance of community involvement, Dr. Kunkel loves visiting schools to talk about animal care and veterinary career opportunities. She is involved in disaster preparedness and response for the state of Tennessee, is on the Alumni Advisory Council for UT-CVM & is the UT-CVM representative for the main campus UT Alumni Council. Little House also sponsors quarterly blood drives for the Red Cross & sponsors Little House University, a lecture series where you can learn more about keeping your pet healthy. (See related links for additional important information about the blood drives, disaster preparedness & Little House University.)
Dr. Kunkel is also a member of the AVMA, TVMA, and is a Fear Free certified professional.