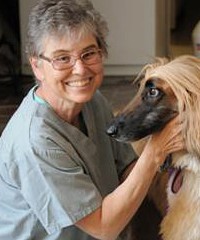 Sandy's lifelong involvement with animals has a current count of two Shiba Inus, eight cats (six bengals and two domestic house cats), and six parrots (different Amazon and Australian varieties).She also has seven Afghan hounds, a breed she's been showing and breeding since 1965.
Dr. Kunkel began caring for Sandy's Afghans in the early 1990's – when and how the two first met.In 1996, Sandy began assisting Dr. Kunkel with housecalls.During that same timeframe, Sandy also worked at Grassmere Animal Park (now the Nashville Zoo) as an educator/small animal caretaker.
Love for animals, a desire for knowledge, and contact with interesting people all come together for Sandy at Little House.Spare time is often spent with a good book.Sandy and her husband have three grown children, one grandchild, and a golden anniversary celebrated.