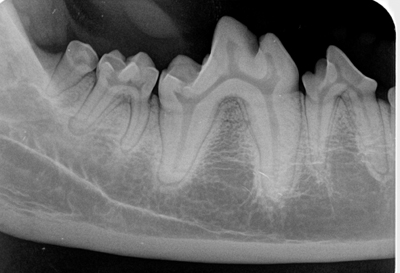 Brushing a dog or cat's teeth daily is the absolute best way to prevent periodontal disease. Think about how terrible our teeth (and breath!) would be if we didn't brush our teeth…and we do it at least twice daily! Starting young will help your pet tolerate tooth brushing as part of their daily routine. Here is Dr. Frevert's tutorial on how to brush your pet's teeth!
http://www.youtube.com/watch?v=B-DIPbrRjTs
Sometimes, preventative dental care is not enough to avoid needing periodontal therapy in the future. Regular professional cleaning is important to maintaining your pet's health. We use modern and safe ultrasound dental equipment to clean each tooth thoroughly – above and below the gum line. Our dental technicians polish teeth to create a smooth, lustrous tooth surface more resistant to plaque buildup. Dental radiographs (X-rays) are performed to evaluate the entire tooth to ensure no disease is present below the gum line. This information further helps us assess your pet's oral health and determine whether extractions need to be performed. As a proper dental evaluation and cleaning requires general anesthesia, we do strongly recommend pre-operative bloodwork within a couple weeks of the procedure. Please call us at (615) 791-9148 with any questions and to schedule an appointment.